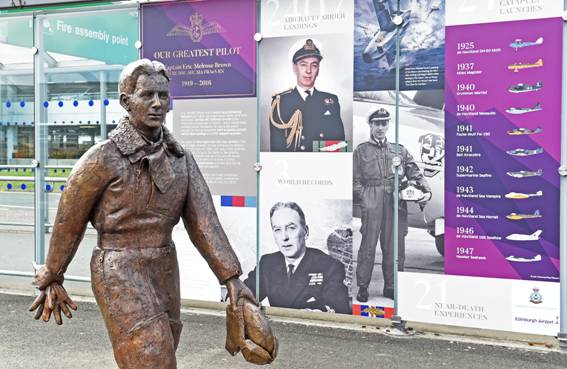 We received the following press release.
Edinburgh University Air Squadron Association
'Winkle'- one of the world's greatest pilots.
Former pilots of Edinburgh University Air Squadron are behind a bid to raise funds of £100,000 to commemorate one of the world's greatest pilots, Captain Eric 'Winkle' Brown, who was brought up in the Scottish Borders, schooled at Edinburgh's Royal High School, studied German at Edinburgh University and trained to fly at what was then RAF Turnhouse in the late 1930s.
With the financial support of many former squadron members, private individuals and corporate donors, together with invaluable assistance from Edinburgh Airport Limited, the first phase of the project to install a bronze statue of Winkle on the Plaza to the east entrance at Edinburgh Airport has now been completed and was unveiled by His Royal Highness Prince Andrew on the 2nd July. The life-size statue depicts him as a young pilot in 1930's style flying gear striding towards his aircraft. The airport management estimate it will be seen by upward of 10 million passengers per year. An honour guard was provided by some student pilots from the East of Scotland University Air Squadron and a contingent of Naval Cadets.
The second phase, which is on-going, is to raise significant funds for Winkle Brown Flying Scholarships to enable some of today's youngsters, including those who are from disadvantaged backgrounds, to experience the life enhancing benefits of flying in light aircraft.
Modest in stature, but huge in achievement, after flying training, when war was declared in 1939, Eric Brown joined the Royal Navy, who were very short of pilots and it was in that service that his modest stature earned him the nickname 'Winkle'.
There followed a most incredible career, which is summarised below.
Flying more types of aircraft than any other pilot in history – 487 in total, ranging from 1930's biplanes, to hel-icopters and supersonic jets.
Holding the world record of 2,407 for the number of landings on to aircraft carriers.
Test flying captured German aircraft in World War 2, including the infamous Me 163 'Komet' rocket plane.
In her interview with him for Desert Island Discs presenter Kirsty Young described Winkle as "making James Bond look like a slacker".
Hamish Macleod, Chairman of Edinburgh University Air Squadron Association said:
"Winkle was not only a man who loved to fly, but he also inspired a generation of pilots with his modest good humour, and outstanding courage. The statue of him outside Edinburgh Airport will give the many thousands of passengers the opportunity to reflect on this Scottish hero who can inspire us all.
Winkle's legacy can also bring a life-changing experience to today's youngsters by assisting them to learn to fly, or simply experiencing the thrill of flying in small aircraft"
The life-size bronze statue was created by the renowned Scottish sculptor David Annand.
Everyone interested in helping some of today's youngsters to take off into life- enhancing flying experiences and possible careers in aviation, or to stimulate interest in STEM subjects, can find out more about Winkle Brown, including watching a video at the Eric Winkle Brown page of the Edinburgh University Air Squadron website. Then, if you wish, please make a contribution to his memory.
Click on the link: http://www.edinburghuas.com/winkle-memorial.