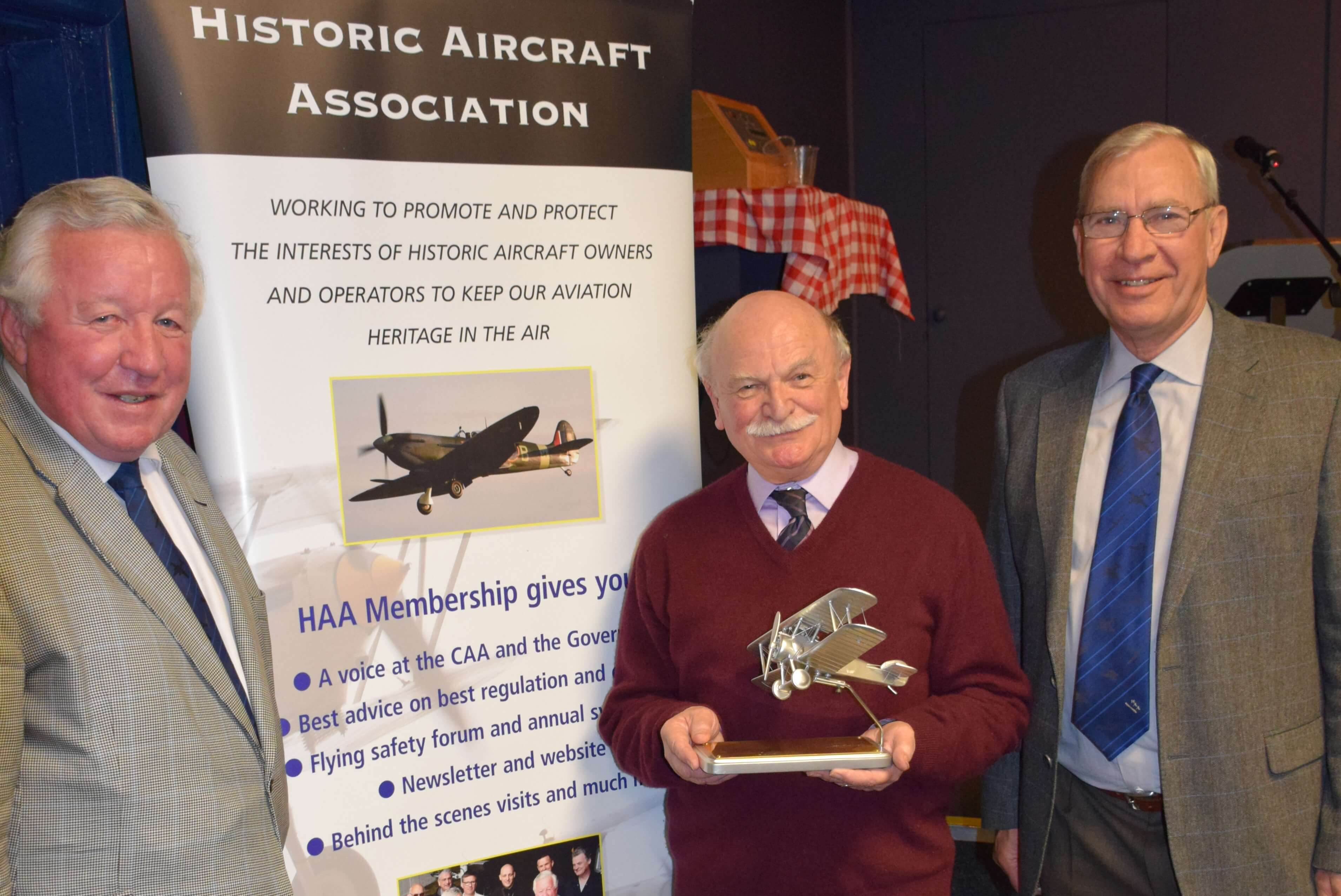 Stuart McKay with the  Darrol Stinton Memorial Trophy and HAA President  Rick Peacock-Edwards  and Chairman Wally Epton
Darol Stinnton Memorial Trophy 2017 Presentation
The late Darrol Stinton was a former Farnborough and Civil Aviation Authority Test Pilot and founder member of the Historic Aircraft Association.
In the 1970s whilst working for the CAA as a Test Pilot, Darrol was test flying an increasing number of historic, classic and vintage types for which civilian owners were seeking Permits to Fly.  In 1978, in answer to CAA concerns about the ability of private owners to properly maintain and display heritage aircraft, Darrol together with Hawker Chief Test Pilot Duncan Simpson and a Council of 4 other Test Pilots, established the Historic Aircraft Association. Their aim was create an association that would monitor air display and piloting standards, share information and make appropriate recommendations to the CAA.  The work of the HAA introduced The Register of Pilots that were accepted and approved to undertake the air show display of historic aircraft.  Darrol's aim was to ensure that historic aircraft were reliable to fly, and would be flown by "good egg" pilots beyond reproach who could be relied upon to fly them safely.
For more than three decades, Darrol worked as a Vice-President of the Association and the excellent safety record of historic aircraft at air shows across the UK is part of his fine legacy. He helped create the system of "Display Authorisation" which evaluated the performance of individual pilots and helped frame regulations which ensured that any potential display incidents were kept away from crowds.
Following Darrol's death in 2013 the HAA instituted a new trophy in his memory to be awarded in recognition of outstanding individual achievement in the operation and preservation of historic aircraft.  This trophy is awarded annually to an individual who is considered by the membership of the HAA to have made a great contribution to British Historic Aviation.
There is no question that the de Havilland Moth design is an historic aircraft and many Moth owners including a large number of Tiger Moth owners are members of the HAA.  Tiger Moths generally appear at air shows and are displayed by their pilots.  It is logical therefore that there should be a close relationship between this Club and the HAA.
The Tiger Moth Owners Circle was established in 1975 by Stuart McKay and has since under his stewardship evolved into the present day de Havilland Moth Club.  For the past 42 years Stuart has tirelessly managed and inspired this Club and its members.  Stuart has actively encouraged Moth owners to preserve their aircraft in flying condition and keep very much alive the spirit and tradition of the de Havilland design that became so popular in the 1920's and Thirties and is now very much part of Britain's heritage.
Members of the HAA decide each year an individual they consider to have made a personal contribution of major significance to the benefit of historic aviation in the UK.
In presenting this trophy to Stuart, the HAA wishes recognize his outstanding contribution to the sustainment of devotion by Tiger Moth owners, pilots and maintainers in keeping these amazing historic and heritage aircraft flying. In recognition and gratitude for his more than 42 years of devotion in keeping this wonderful, iconic historic aircraft type flying, the Historic Aircraft Association is pleased to present this year's Darrol Stinton Memorial Trophy to Stuart McKay.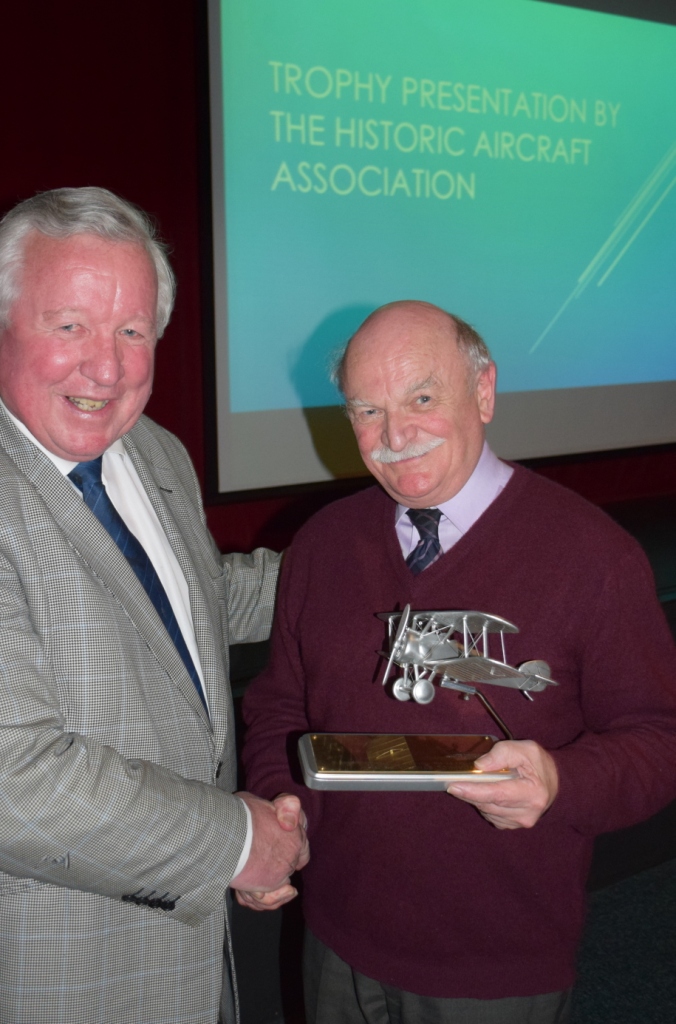 Stuart McKay receives Darrol Stinton Memorial Trophy from HAA President Air Commodore Rick Peacock-Edwards CBE AFC FRAeS FCIM RAF (Ret'd)