We were sent the following announcement which you may find of interest regarding a new display team.
FOUR CHIP FORMATION TEAM –  formed for one show but now flying more shows in 2019
The 'Four Chip Formation Team' is based at Duxford.   The Chipmunk is held in great affection by many,  from RAF, Royal Navy and Army Air Corps pilots who trained on them,  The Chipmunk is still a valuable training aeroplane in the 21st Century with teams such as the Battle of Britain Memorial Flight, Aircraft Restoration Company and Historic Aircraft Collection using it for pilot training for a range of World War II fighters including the Spitfire and Hurricane. Unlike many aircraft in air displays the Chipmunk is one that many in the display audience will have flown in; such as the many of Air Cadets who had their first flying experience in one, silver helmet on and Irvin seat parachute banging against their legs on the way out to the aeroplane for their first flight.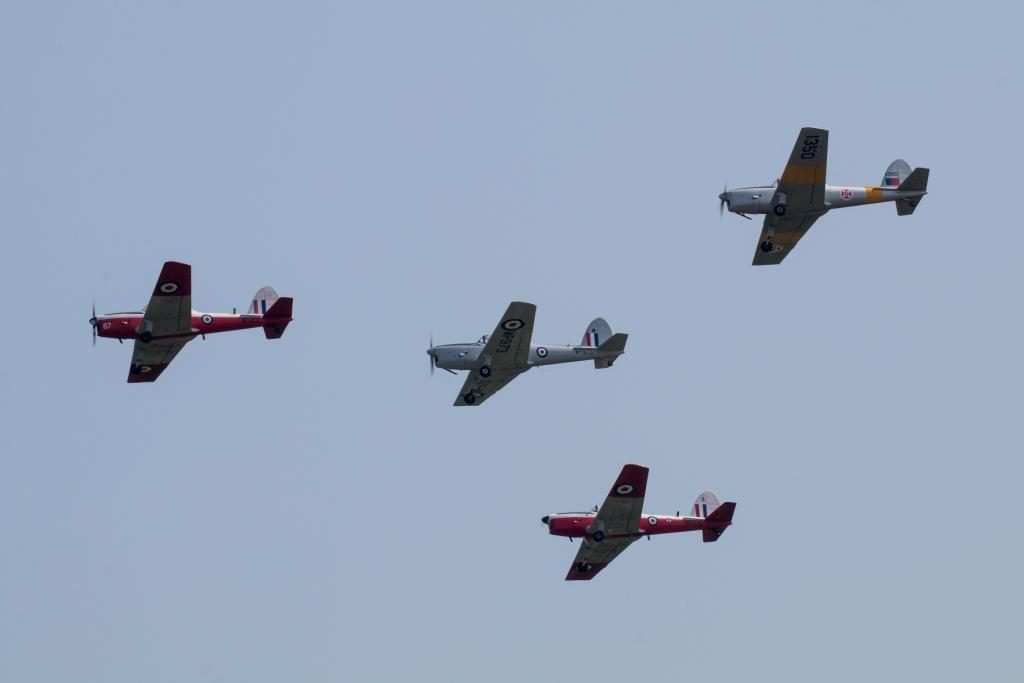 Howard Cook has been instructing pilots up to Display Authorisation level for air displays since 2006 and then "present the trained article to a Display Authorisation Examiner (DAE) before they can start off on the air display circuit".  Howard's preferred aircraft for instructing is the de Havilland Chipmunk. "Given its limited power the Chipmunk means you must keep in position in a display formation whereas in a more powerful type like a Harvard there is power to close back in if you lose position", "If you can keep in tight in a Box 4 in a Chipmunk, you can keep in tight in anything!". 
Howard had trained David Petters and Paul Green at Duxford and they were joined by Jon Higgins with whom Howard has flown displays a number of times. David, Paul and Jon had not flown in a display at Duxford, something Howard has done regularly over the years and therefore he decided to form the 'Four Chip Formation Team' based on the teams name and basic four ship formation, to enable them to make their debut.   "We had a very successful first team show at Duxford and as a result we are now looking forward to flying some shows in 2019".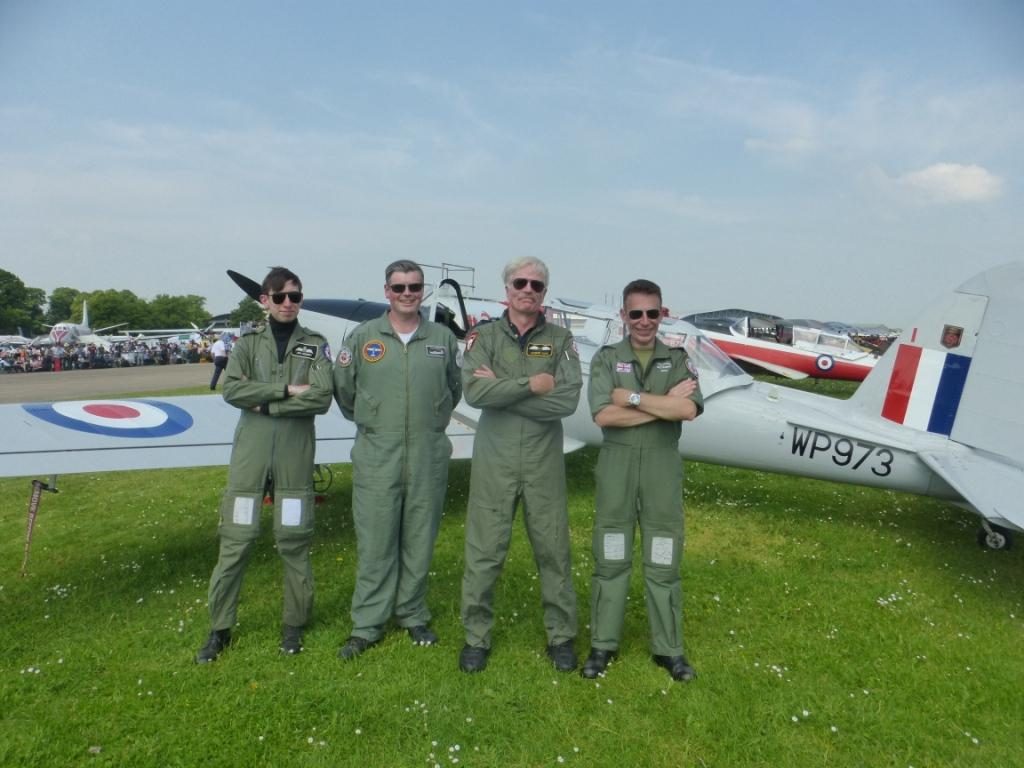 The team flies four Chipmunks in various training colour schemes and just like the jet formation teams – only much slower!   Given the Chipmunk has so little power it takes a great deal of skill to fly a formation display and transitions at low level.  Three of the team are based at Duxford and team members regularly train at the airfield. The plan is to keep their displays current all year.
The Four Chip Formation Team will be making a limited number of appearances in 2019 "basically the shows we would like to fly".  Contact Howard Cook on [email protected]
 The current line up is as follows:
'Four Chip 1' is Howard Cook
Howard has flown a range of vintage types from Tiger Moth to Curtiss Kittyhawk and has displayed the Historic Aircraft Collection Hurricane, Storch and Hawker Nimrod II and Vintage Wings of Canada Harvard amongst others.  Howard is also Honorary Commander of the 493rd Fighter Squadron USAF.  He flies Chipmunk G-BWMX based at Fen End Farm Cambridge.
'Four Chip 2' is Jon Higgins
At the time of his initial Display Authorisation at 19 years of age, Jon was the youngest display pilot in the UK.  Jon flies solo aerobatic displays or with formation teams.  Trained by Charlie Brown, Jon flies G-BYHL based at Rectory Farm
'Four Chip 3' is David Petters
Although 2018 was David's first year on the display circuit he completed his Pilots Licence at 17, started as a First Officer with Ryanair at 21 and became Captain at 25 now with 10,000 hours and he has been flying vintage types for 11 years. David flies G-CGAO in Portuguese Air Force markings and based at Fenland.
'Four Chip 4' is Paul Green
Paul instructs at White Waltham in his Chipmunk and often donates his time and aircraft to displays to support charitable causes.  Although has been flying for 18 years 2018 was Paul's first year on the display circuit and he flies G-BCPU based at White Waltham.