At the HAA Symposium at the RAF Museum Hendon, Dodge Bailey was presented with the Darroll Stinton Memorial Trophy  by HAA President Rick Peacock-Edwards. Dodge was greeted with warm applause in recognition of his eminent career and wide recognition as a leading expert in flying historic aircraft. The citation for the award appears below detailing Dodge's career and reason for his highly respected status in the industry.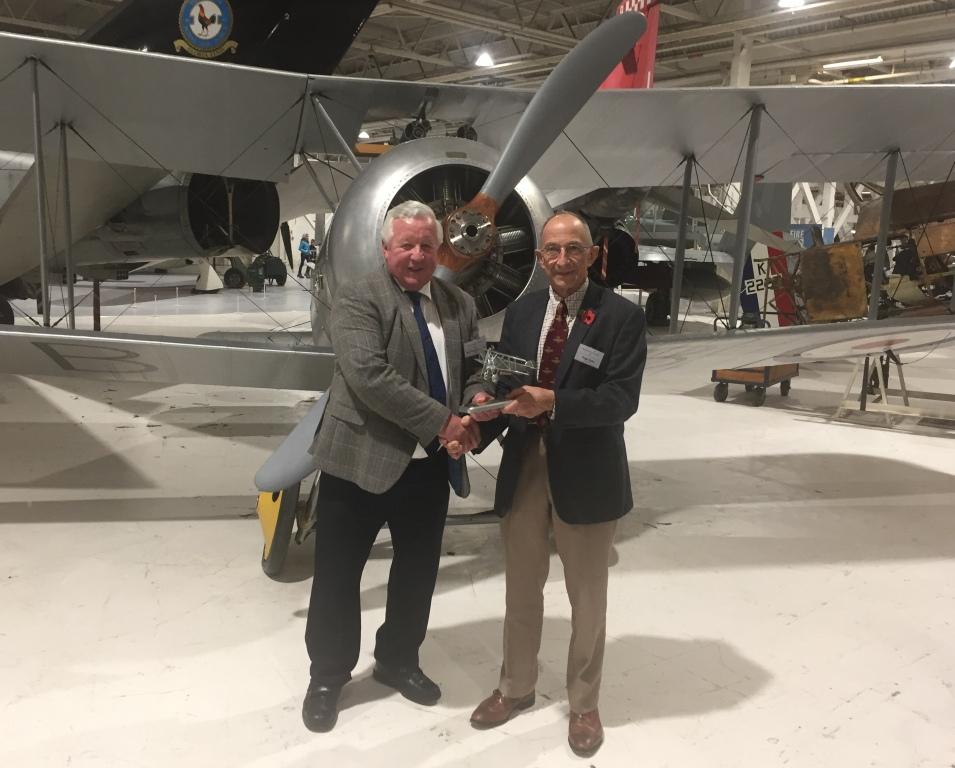 The citation reads:
Roger Bailey joined the Royal Air Force in 1969 straight from school as a pilot cadet. In typical forces tradition the name Roger was instantly corrupted to Roger the Dodger – and quickly shortened to 'Dodge'.
During his training he flew the Chipmunk, Jet Provost, Gnat and Varsity aircraft. He was posted to the C-130 Hercules and served with 48 Squadron, 24 Squadron, and 242 OCU as Co-pilot, Captain, and Training Captain respectively.
He went on to the Central Flying School to train as a Qualified Flying Instructor on the Bulldog and subsequently served on the Universities of Glasgow and Strathclyde Air Squadron and Bulldog Standards Flight.
Next he attended the United States Air Force Test Pilot School as an exchange student and there flew over twenty types including the T38, A37, F4, Phantom,  A7 and C5 Galaxy. After graduating TP in December 1986 he joined Flight Systems Squadron at the Royal Aircraft Establishment, Bedford where he flew BAC 1-11, HS 748, Viscount, Hawk and Tornado aircraft and completed a rotary wing conversion on to the Gazelle.
He was appointed the Officer Commanding Aerospace Research Squadron in 1988 and retired from the Royal Air Force in December 1989.
After leaving the RAF he joined the then College of Aeronautics at Cranfield as Chief Test Pilot. Subsequently he became Head of Flight Operations for Cranfield University's National Flying Laboratory Centre which operates Cranfield's Jetstream and Bulldog aircraft. He retired from Cranfield University in 2012 but remains the nominated Chief Test Pilot for Cranfield Aerospace.
Best known in the historic aircraft world for his achievements with the Shuttleworth Collection, which he joined in 1989.  "Dodge" is seen as the "go to" pilot for advice on and particularly the testing of, First World War types and has an encyclopaedic knowledge in this respect.  The October Race Day display at Old Warden was his last as the Shuttleworth Collection Chief Pilot although he will continue to fly the Collection aircraft.
"Dodge" as we all know him, has made a considerable and significant contribution to the ongoing safe operation of vintage and historic aircraft and is a worthy winner of the Darrol Stinton Memorial Trophy.