75th Anniversary of the de Havilland Chipmunk
In addition to the commemoration of the 80th anniversary of the Spitfire that we marked early in March this year, 2021 marks the 75th anniversary of the first flight of the de Havilland Chipmunk, regarded by many as the best handling production light aircraft of all time.
The de Havilland Chipmunk was designed as a two-seat single-engined primary trainer. The principal designer of the Chipmunk was Wsiewolod Jakimuik who led the design and development for De Havilland Canada.  Jakamuik has worked in Poland with PZL designer Zygmunt Pulawski on the design of the PZL 11 fighter.  After Pulawski's death he took over the P.7 and P.11 programmes and also designed the P.24 and then moved to Canada.
The prototype Chipmunk first flew on 22nd May 1946 at Downsview, Toronto and was flown by de Havilland test pilot Pat Fillingham. It was the first aircraft to emerge from de Havilland Canada and hence the designation DHC-1. 217 Chipmunks were constructed at Downsview and a further 1,000 produced under licence in the UK, initially at Hatfield and then at Hawarden.  A number of Chipmunks were also produced by OGMA (Oficinas Gerais de Material Aeronautico in Portugal.
The RAF received 735 Chipmunks where it was designated T.10 and became the replacement for the ageing Tiger Moth. It had a long service as the RAF standard trainer before being phased out of service in 1996. It also served with the Army Air Corps and Royal Navy.  Two Chipmunks still fly with the Battle of Britain Memorial Flight where they are used to convert jet fighter pilots to piston engines and to the art of flying a taildragger. It is also notable that HRH Prince Philip had his first flying lesson in a Chipmunk and referred to it as his favourite aircraft.  Prince Charles also learned to fly in a Chipmunk and that particular aircraft is still flying.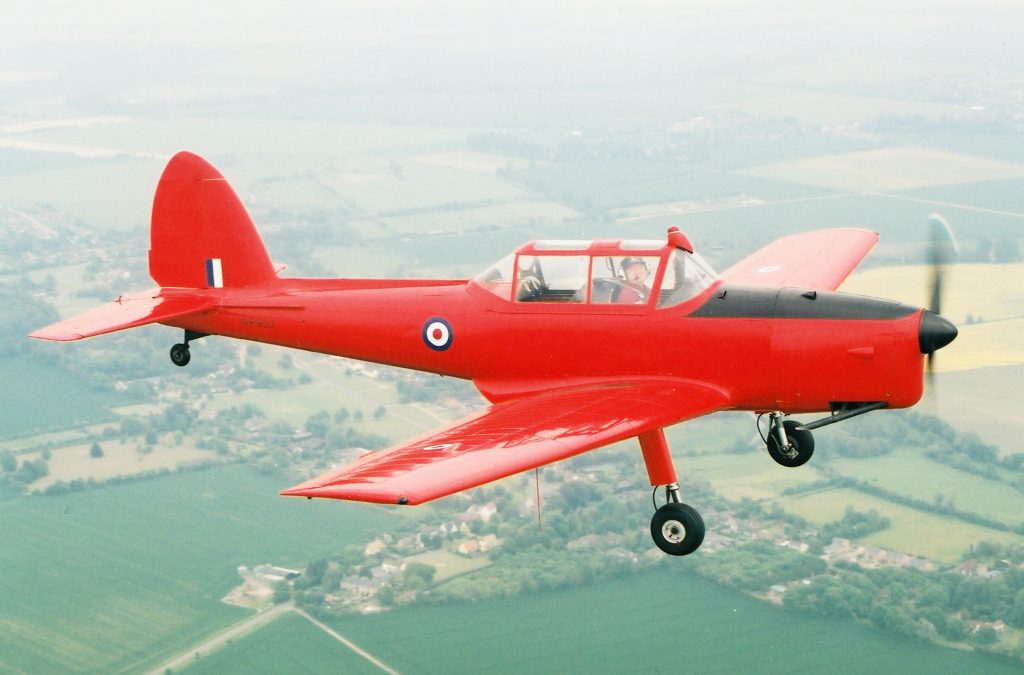 Powered by a 145hp 4-cylinder de Havilland Gipsy Major and with 18 gallons of fuel on board with full tanks, the Chipmunk is famous for its handling and many regard it as the greatest handling production aircraft ever created (I do too – author). The Chipmunk was designed as a trainer and there are few that have ever been created that are better at this purpose and many are still used in this role now.  It is an ideal stepping stone when "moving up" to the Harvard and on to the Spitfire and a number of Spitfire operators retain them for this purpose.   Like the Spitfire the Chipmunk has differential braking – that is "hand and feet" (left foot and hand lever – left brake, right foot and hand lever – right brake, rudder controls central and hand lever – both brakes).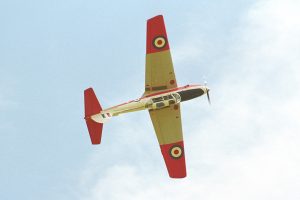 Although only 1/10th the power of a Spitfire the Chipmunk is an excellent energy management trainer for aerobatics and is often referred to as a "mini Spitfire" albeit the Chipmunk's handling is actually better harmonised than a Spitfire.  Because of this handling there are few better historic aircraft for the pure joy of flying.  There are few better trainers for formation flying and you will still see display teams like the Four Chip Formation Team and the Red Sparrows (Howard has led both teams and teaches formation at Duxford).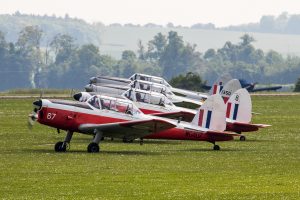 At airshows over recent years it is the one aircraft in the show that many in the crowd will recall flying in, reminding of them of their days in the Air Cadets, with seat parachutes banging on the back of their legs as they staggered out for their first air experience flight in a service aircraft.
Film afficionados will note that in the Robert Redford film The Great Waldo Pepper that the fictional 1926 Styles Monoplane was played by a de Havilland Chipmunk, complete with false flying wires and spoked wheels to make it look somewhat older than it actually was.
The de Havilland Chipmunk had a very long service life and now a long civilian flying life.  As many have survived it has created the opportunity for many to sample the joys of flying historic aircraft in what is regarded as one of the great pilot's aeroplanes.
Howard Cook
2021