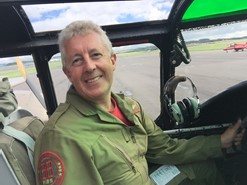 The CAA sponsored Flying Display Focus Group (FDFG) is made up of experienced industry practitioners and regulators. What`s its purpose?
You may think "safe" and "exciting" in the same sentence in relation to flying displays and Airshow' sites, is a contradiction in terms. Well, I think evidence shows it isn`t. That`s because much experience, risk management and creative thinking is applied by event organisers, display pilots, evaluators, flying display directors and yes, regulators ensure it`s both!
Let's face it, many regulatory rules the CAA`s, rule book (CAP 403) Flying Displays and Special events and (CAP 1724) Flying Display standards. The Military regulator the Military Aviation Authority`s (MAA) rule book (RA2335) and current best practise, have been informed from accidents and mistakes over the years. Regulations are developed for good reason – to protect the public and ourselves.
In the UK, we do after all, have considerable experience to draw on, from the early days of aviation right up to today. For example, the minimum display lines distances that are imposed at events vary from high to low energy aircraft so we protect the crowd line and the public in the event of an accident. Because of this and many other measures, the fact is, Airshows are generally, safe and entertaining.
It is recognised however, as with everything in life risk, is never "nil."  Therefore, safety remains a key focus of all concerned. We have sensible rules for air displays, robust risk management and best practise experience which is regularly reviewed often identifying further insight to constantly improve the environment we operate in and the flying and events we undertake.
Some argue of the Airshow scene it`s "all too sterile and it's the CAA`s fault!" To me that`s unfair and doesn't pass muster! It's just too easy to say and isn't often evidenced.
I`m not part of the CAA or the keeper of the corporate purse, I`m a display pilot and a flying display director. However, I do feel some fail to recognise the difficulties and responsibilities the CAA have. Like the MAA for the military, they are a regulator. The remit is fundamentally public safety, they are not a coach to us, a consultant or a training organisation! Like most regulators in the UK, the CAA is funded by the charges levied on the industry it regulates. The CAA is not funded by the UK tax payer and are legally required to cover the cost of our regulatory activity through charges on the industry.
The public
The fact is, we are achieving safe and exciting air display acts. Ask the public?
Feedback evidences, they love seeing aeroplanes bursting balloons with their propellers to the Red Arrows flying formation, feet from each other with their red white and blue smoke. Experiencing the feeling of the ground shaking from a Typhoon jet in full after burner! The stunning, evocative sight and sound of a Spitfire. A WWI aeroplane. Gyro copters helicopters, gliders. The spectacle of pyrotechnics being fired from Piper Cubs and Extras performing aerobatics in the twilight – all quite awesome they say! If you haven't seen the latter yet – it`s a must! All enabled by positive effective regulation. Regulators apparently like aircraft too! Yes, we are achieving "safe and exciting" and it's the CAA and the MAA rules which are the important enablers.
As important, are those brave often entrepreneurial and certainly enthusiastic, Event Organisers, supported by Display Pilots and Flying Display Directors and flying control committees and a myriad of important helpers and volunteers They supply vital energy, experience, risk management, creative knowledge and skill. They also drive regulation and best practise vital to future air shows. Now that`s great stuff!
I assure you, there is only modest financial reward to be had at best, with many events just breaking even or worse. And weather ……what a challenge for everyone but that's another subject!
The FDFG mission and it`s industry
The Flying Display Focus Group was formed to strengthen the links and communication between the industry and its regulators. Both civil and military.
There is a rich mixture of representation from across the air display community and other interested parties.
It was formed in 2018 and born out of a need. The display flying community and event organisers and officials are in my humble opinion, great folks however, could be described as cottage industry with many skills and much experience. Representation of its interests has often been difficult to deliver effectively, as it is a rather disparate and scattered community which has many different interests and views. One united voice or even 4 voices is difficult to achieve. I have personal experience of this. It's not that such interaction doesn't already happen in various ways it does and with many individuals and organisations such as the Light Aircraft Association (LAA) Historic Aircraft Association (HAA) and the British Air Display Association (BADA) and the Warbird Group and off course at an individual and company level. However, an opportunity was taken to try to address the need for greater cohesion.
It can be difficult for the community or the regulator to receive the collective insight it needs in a useful manner. Indeed, we all know some practitioners can put across a well-considered clear set of points. Some others, have no interest in doing so, or little skill set to do so effectively. It varies.
To try to create greater cohesion the CAA spoke to a number of Airshow' participants about the idea of a joint working group which found favour and put together a new group to work with the CAA on flying display matters of mutual interest. I`m pleased to say, it has already produced many benefits and is proving successful for the CAA/MAA and the Airshow' community. Both parties recognise the relationship between the regulator and the industry is key and both benefit from each other's input and views.
The Flying Display Focus Group (FDFG) is an advisory body formed by the CAA GA Unit. The Group is consulted for advice and views on matters concerning the CAA's regulation of the Flying Display Community.
The purpose of the FDFG is to assist the GA Unit in the development of Flying Display policies, procedures and guidance in order that due attention is given to the areas of interest or concern in a collective effort to maintain and improve safety at Flying Displays, for Flying Display participants, and the general public.
The Group is chaired by the CAA Air Display Regulation Manager, with membership by invitation/voluntary and remaining under periodic review. The Group is predominantly constituted from the regulated community and meets 4 times a year at various locations including the CAA`s Aviation House at Gatwick. Regular correspondence takes place in between on Airshow' matters and 2019 saw the FDFG meet on 4 occasions and it has met twice in 2020 by video link.
The FDFG aims covers both civilian and military display flying so the Military Aviation Authority (MAA) the military regulator is included in this group.  As far as possible members will aim to be representative of the following stakeholder groups:
Civil Aviation Authority • Military Aviation Authority • British Air Display Association • Historic Aircraft Association, Flying Display Directors • Event Organisers • Display Pilots • Display Authorisation Evaluators.
The Group is involved in the policy development for each issue from the beginning rather than commenting on issues after CAA experts have already selected their preferred solution. This leads to better outcomes as it is more consultative.
Discussions during Group meetings should not be dominated by issues that are only of interest to a minority of participants. A sub-group or working-group is set up to deal with any specific or minority concerns so they do get addressed and heard and come back to the main group once considered if action is required. Group decisions and discussions are made available to the regulated community after due consideration is given to the sensitivity of the issue or subject. Practically speaking this may mean publishing meeting decisions, actions or minutes in an appropriate position on the CAA website.
Proposals and Issues
Proposals or issues that originate within the CAA are circulated to the Group for members to comment on and vice versa.
A proposal or issue that originates from a member in the Group (representing a stakeholder group) is sent to the CAA and or the MAA. The CAA will then circulate the proposal or issue to the Group for comment or add it to the next meeting agenda for discussion.
If the matter is straightforward and a consensus emerges then this will be used by the GA Unit to develop the relevant policies, procedures and guidance.
If the matter is more complex, then the CAA GA Unit may establish a separate working group for issues where additional expertise from outside the Group is required.  All members of the Group will be presented with the working group's findings for consideration.
There is no formal voting procedure on matters or proposals that may be raised.
The Group is a sounding board which functions on the principle that those who have a voice in the formulation of policies are more likely to abide by those policies and for them to work. Such a principle leans heavily on mutual trust and interest, which are also promoted by greater openness and transparency.
Members are free to share discussions held by the Group but are asked to ensure that the context of such discussions are fully understood.
Tasks
Amongst other things consistent with the terms of reference the Group focuses on a contribution to the CAA as regulator in the following key areas.
Highlight any safety issues to the CAA GA Unit without delay
Play an active role in all stages of the CAA's policy development process by:
Providing expert technical input
Facilitating communication with stakeholder groups
Communicating feedback from the respective stakeholder groups
The CAA may already have the answer to the proposal or issue and may be able to provide a quick answer. The CAA also have committed to the group to;
Assist in the solving of any particular issues as they may arise
Contribute to and champion a Just Culture within the Flying Display community. (What went wrong? Rather than who caused the problem!) to aid learning and enhance competence and safety.
Assist the CAA in improving occurrence reporting across the Flying Display community.
Contribute to and champion the improvement of safety within the Flying Display community
New members may be added by the CAA GA Unit in 2 ways:
The GA Unit is approached by a suitably qualified member of the Flying Display community wishing to become a member
A new member is nominated to the GA Unit by an existing Group member.
I hope this article has now informed you about this groups focus and mission if you didn't already know.
Delivering a better air display environment.
Examples of great input from the community to the regulators have resulted in important changes that have shaped and delivered amendments to Flying Displays and special events (CAP403), Flying Display Standards (CAP1724) and Military Displays and Flypasts (RA 2335).
We have ensured Flying Display Directors can obtain hazard data on military aircraft in the event of an incident. Pilot currency requirements have been altered based on feedback from Flying Display Directors and Display Pilots to determine optimum currency requirements for both groups. Many processes have been reviewed and altered some scrapped, to ensure fit for purpose. So, it's fair to say the collaboration between regulators and the community it regulates is vital and enhancing safety reducing unnecessary bureaucracy and contributing to exciting air displays – and long may it continue!
Request    
If you attend air shows for pleasure or have a formal role in air shows the FDFG and myself or any of our members welcome any observations, ideas or comments you may have that would give us further insight to developing safe and exciting air displays for all of us. Please don't hold back! I hope we can count on hearing your views and can count on your support.
End.
Lawrence Hawthorn.
Email – [email protected]
Flying Display Focus Group member, Display Pilot and Flying Display Director.
Management Committee, Historic Aircraft Association.